Any type of marketing that uses electronic devices to spread advertising messages and can be tracked by marketing professionals throughout the consumer journey is referred to as digital marketing.
Digital marketing is most commonly used to characterize advertising campaigns that run on a phone, computer, tablet, or another electronic device. Display ads, online videos, paid social ads, search engine marketing, and social media posts are just a few examples of the various modes it can take.
Utilizing digital channels like social media, pay-per-click advertising, search engine optimization services, and email marketing, you may interact with both current and prospective clients. As a result, you might gradually develop a compelling brand, provide superior customer service, bring in new customers, and more.
Why is Digital Marketing important?
Digital marketing reaches a larger audience than prior strategies and enables you to focus on the customers who are likely to purchase your products or services. In addition, it often costs less than traditional advertising and enables daily progress monitoring and pivoting as required.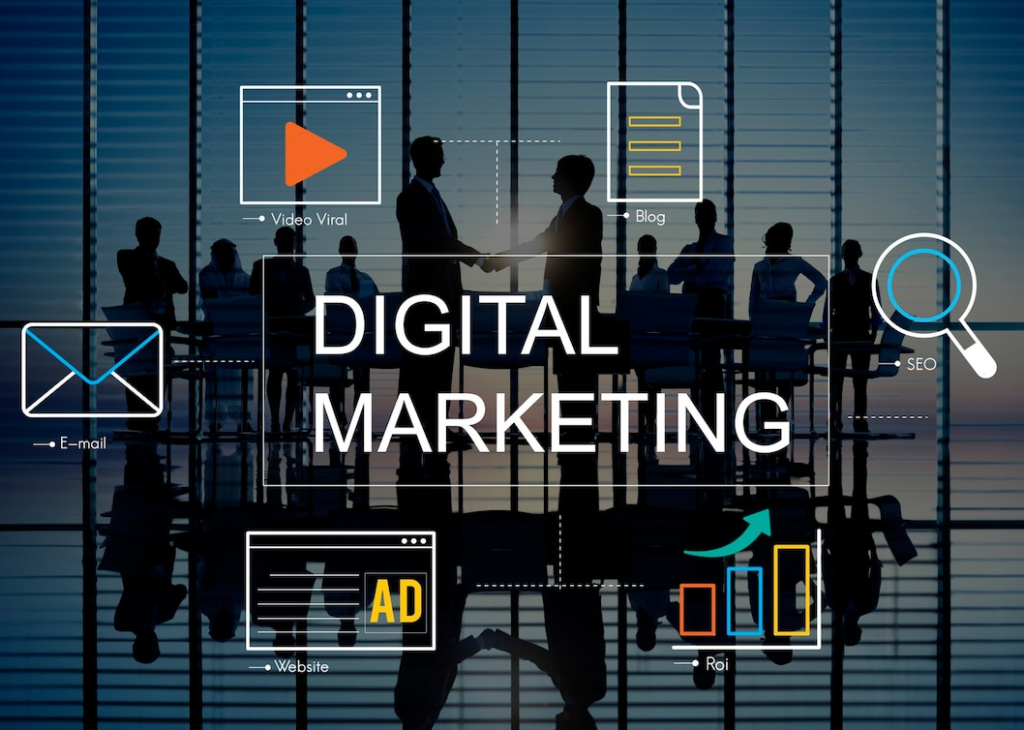 There are a few major benefits of digital marketing. These are:
You can focus on prospects who are most interested in buying your goods or services.
Your ability to choose who can watch the advertisement that you run in a magazine, on television, or even on a billboard is quite limited. Of course, some demographics may be quantified, such as the typical magazine readership or the demographics of a specific neighborhood, but the majority of them are still educated guesses.
Digital marketing, on the other hand, gives you the ability to pinpoint and target a very specific audience while also giving that audience individualized, very effective marketing messages.
Ultimately, digital marketing aids you in conducting the research necessary to develop your buyer persona and enables you to iteratively enhance your marketing strategy to ensure you're attracting clients who probably would buy your products. The best thing about adopting digital marketing methods is that it gives you the opportunity to advertise to more specific subsets of your core target audience. This is especially helpful if you market to numerous client personas and sell a variety of products or services.
Digital Marketing is more affordable than marketing strategies that are outbound.
By adopting digital marketing methods, you can keep an eye on campaigns on a regular schedule and reduce spending if a certain channel isn't giving you a decent return on your investment. One cannot equate traditional forms of advertising with one another. Regardless of whether your billboard generates sales for you, the price remains the same.
With digital marketing, you also have complete control over your financial decisions. Perhaps you opt to purchase design tools to create Instagram content that brings in good conversions rather than spending money on PPC adverts. With a digital marketing strategy, you can continuously pivot and save money on inefficient channels.
By levelling the playing field within your sector and enabling you to compete with more established brands, digital marketing.
If you work for a small business, it will likely be difficult for you to compete with the big players in your industry, many of which have millions of dollars to spend on television commercials or national advertising campaigns. Thankfully, there are a number of opportunities for efficient digital marketing campaigns to outperform the major companies.
You may locate relevant long-tail keywords for your product or service, for instance, and then create high-quality content in order to improve your rating on search engines for those keywords. Search engines will prioritize the material that is most popular with the target audience rather than the biggest brand.
Digital marketing can be measured.
With the use of digital marketing, it is possible to track all of the data that can be crucial to your company, including shares, impressions, clicks, views, and time spent on page, in great detail from start to finish. This is one of the key benefits of digital marketing. Traditional advertising can be effective for some goals, but it has a number of drawbacks.
Digital marketing gives advertisers the ability to see precise results in real-time, in contrast to the majority of traditional marketing tactics. If you've ever run an advertisement in a newspaper, you know how difficult it can be to estimate how many readers actually flipped to that page and paid attention to your advertisement. It is impossible to say for sure whether such an advertisement increased sales in any way.
It is crucial to connect the links between marketing and sales — according to Aberdeen Group, a 20% yearly growth rate is achieved by businesses with good sales and marketing alignment, as opposed to a 4% revenue decline for businesses with weak alignment. Making use of digital technology to boost your customers' buying cycle experience is quite likely to have a favourable impact on the bottom line of your company.
Adapting a digital marketing plan and making moderations is simpler.
Making a marketing strategy requires a lot of work. Normally, you'll follow through on that strategy to the letter, give it some time to bear fruit, and then assess the outcomes. However, not everything always proceeds as planned. You may realize around halfway through that a calculation, an assumption, or an audience reaction did not turn out as expected. Being able to pivot or adjust the plan along the way is incredibly useful because you don't have to start from scratch.
The ease of modifying your strategy is one of the main benefits of digital marketing. In contrast, altering a digital marketing strategy is more easier than altering a more traditional marketing plan like mailers or billboard advertising. For instance, if an online advertisement isn't yielding the expected results, you can change it right away or suspend it.
Ending Note
Any modern business that wishes to succeed in the present business environment must incorporate digital marketing strategies into its overall business plan. This doesn't mean you have to stop using traditional print advertisements, especially if your company is already getting excellent results from them. However, by integrating digital marketing strategies with your current conventional marketing strategies, your business may start to focus its efforts on the finest results.